Getting Here & Getting Around
Getting Here
By Air:
1. Fly directly into Sun Valley (Friedman Memorial Airport-SUN), 12 miles south of Sun Valley/Ketchum in Hailey, ID.
For the most current flight schedule, please visit Fly Sun Valley Alliance's website here.
Note that the Friedman Memorial Airport will be closed for a short time this spring (April 28-May 22, 2014) due to taxilane construction.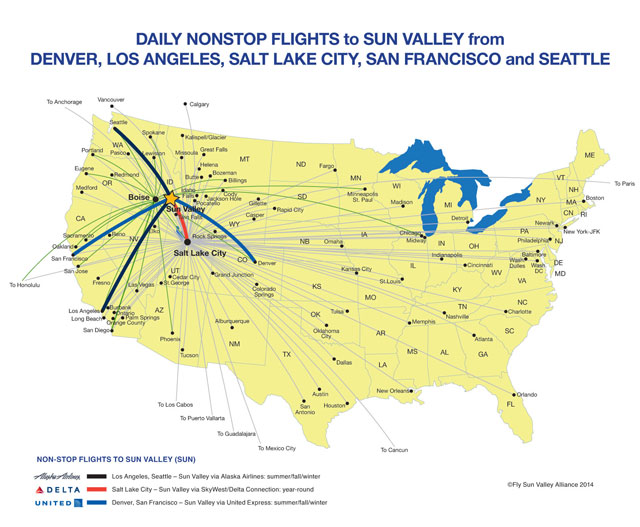 2. Fly directly into Boise (BOI), 150 miles southwest of Sun Valley
United Airlines: daily non-stop flights from LA, San Francisco, Chicago and Denver

Delta Airlines: daily non-stop flights from Los Angeles, Minneapolis and Salt Lake City

Southwest Airlines: daily non-stop flights from Denver, Las Vegas, Oakland, and Spokane

US Airways: daily non-stop flights from Phoenix

Alaska Air: daily non-stop flights from Sacramento, San Diego, San Jose, Seattle, Portland, and Lewiston

McCall Aviation: McCall and Salmon, ID

Allegiant  Air: Las Vegas and Honolulu
3. Twin Falls Airport (TWI), 90 miles south of Sun Valley, is served by Delta/Skywest
By Ground:
Daily shuttles from Boise are available on the Sun Valley Express (twice daily) and will take visitors directly to Sun Valley. Also the Salt Lake City airport is just 4.5 hours away.
Getting Around Town
1. Rental Cars- The three major rental car companies in the area are:
Avis (208)788-2382- located at the Friedman Memorial Airport Terminal at 1616 Airport Way in Hailey, ID

Hertz (208)788-4548- also located at the terminal as well.

Enterprise (208)578-1156- down the road from the airport at 1220 Airport Way. Call for pickups and reservations.
2. Mountain Rides Transportation Authority
When you visit Sun Valley, it's a breeze to get around. No need to rent a car; just hop on one of the FREE and easy Mountain Rides buses that will get you where you need to go around Ketchum and Sun Valley. With four "Around Town" routes in the Summer and six in the Winter, it's easy to get to your many destinations including Dollar and Bald Mountain, Ketchum Town Square, Sun Valley Resort, and dozens of other stops. Bus schedules differ by route, with many coming as often as every 15 minutes. And skis, snowboards, and bicycles are no sweat! All of the buses are equipped with ski and bike racks to handle your recreational equipment.
Spring 2014 Bus Schedule Starting April 21 to June 13, 2014:
Mountain Rides provides free Daily Bus Service from Sun Valley, Warm Springs, River Run, Dollar Mountain, Downtown Ketchum, and Elkhorn Springs. 
The Blue route connects downtown Ketchum, Warm Springs, Sun Valley Village, and Elkhorn Springs. It currently runs hourly from 7am to 9:30pm.
The Green Route connects downtown Ketchum, West Ketchum, River Run, St. Luke's Hospital, and the Meadows. It currently runs hourly Monday-Friday from 7:35am-10:58am and 2:00pm until 5:30pm. There is no midday service from 11-2:00pm.
Mountain Rides provides daily service Northbound and Southbound to Hailey and Bellevue with a fare required.
The Valley Route connects Bellevue, Hailey, Ketchum, and Sun Valley. It currently runs every 30 minutes during the peak commute time, hourly midday, and limited late evening trips Monday through Friday 5:45am to 10:05pm. On Weekends and Holidays the Valley bus runs every 2-3 hours from 6:30am to 8:00pm. 
The Hailey Circulator Route connects downtown Hailey, Community Campus, and Woodside plus deviations to the Senior Connection and St. Luke's Hailey Clinic and the airport. It currently runs hourly from 8am to 12pm and 1pm to 5pm Monday through Friday only. There is no holiday or weekend service.
Hop on, sit back, and let Mountain Rides get you there!
208-788-RIDE (7433) for more information or
mountainrides.org
.
Pick up a schedule at our Visitor Center located at 491 Sun Valley Road in Ketchum, ID.
Getting Here & Getting Around

Location

Sun Valley

United States

43° 30' 21.9816" N, 114° 18' 1.386" W